About
Shaolin Chi Mantis
Traditional Buddhist Kung Fu
& Yang Tai Chi Chuan
Traditional Shaolin Kung Fu (Gongfu)
Americans do not know what Chinese Kung Fu is.
Chinese Martial Arts:
Warrior Athlete
Scholar Warrior
Spiritual Warrior
Beginner Level:  Warrior Athlete
Intermediate Level:  Scholar Warrior
Advanced Level:  Spiritual Warrior
These are the LEVELS of LEARNING.
Then there are the 3 LEVELS of MASTERING.
We will talk of 'mastering' as we teach you how to master Shaolin Kung Fu and Yang Tai Chi Chuan.  As you accumulate skills, endurance, abilities, balance, patience, focus, and control… you will be developing your mind as your mind develops your body.  To control your body we will develop control of your mind.
HISTORY of FOUNDER Zhen Shen-Lang "Buddha Zhen"
Born February 4, 1954 in Pacific Beach, California.
Public School:
biologist, poet, short stories, piano, trombone, electric guitar
1971 graduate Prince of Wales Collegiate
Colleges:
Memorial University of Newfoundland
San Diego State University
San Diego City College
Grossmont College
R.I.A.A. Recording Engineer Program
United Brotherhood of Carpenters Apprenticeship Graduation 1978 to Journeyman Carpenter
Tai Mantis Federation graduation 1984
UCLA Motion Picture Program graduation 1987
Utah State University Nonprofit Training Program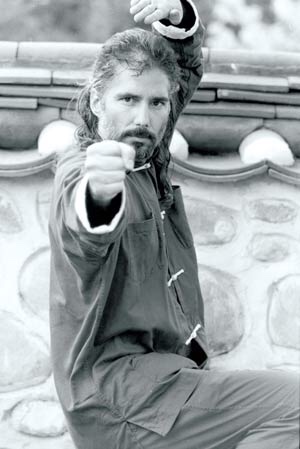 A master is the graduate of an apprenticeship.  To be an apprentice you must be a disciple of a master.  To be a master you had to be an apprentice…
This is a cycle of learning.  Beginner Level: elementary school.  Intermediate Level: middle school.  Advanced Level: high school.  Now you are ready to learn how to master your learning. 
Americans also don't know that Shaolin Kung Fu is BUDDHISM FIRST and the martial arts secondary.  The founder of Zen Buddhism and Shaolin Kung Fu was BODHIDHARMA in about 600 A.D.  The "18 Luohan Hands" were the Kung Fu he brought from India to China.  It was a personal fitness program that enabled the monk to defend himself and protect the helpless. 
The monks were Buddhists first, then perhaps martial artists–if they wanted to.  From my readings: only the monks who pursued the Shaolin Kung Fu were allowed to attend.  None of the monks were required to learn Kung Fu?  The Shaolin Temple on Mt. Songshan has a 1,500 year history with over 50 abbots at that one temple.  With each abbot perhaps changing the rules or attitude of the temple in relation to Mongolian invasions the attitude and education at the temple may have varied widely.  But the Shaolin Kung Fu was perfected and handed down from generations of monks to monks to monks to:
Gu Ru Zhang
Wong Jack Man
Zhen Shen-Lang  "Spirit Wolf of Truth" (Richard Del Connor)
 Shaolin Chi Mantis CURRICULUM:
Beginner Level

WHITE SASH
WHITE SASH + 1 Green Stripe
WHITE SASH + 2 Green Stripes
WHITE SASH + 3 Green Stripes

Intermediate Level

BLUE SASH
BLUE SASH + 1 Green Stripe
BLUE SASH + 2 Green Stripes
BLUE SASH + 3 Green Stripes

Advanced Level

GREEN SASH
GREEN SASH + 1 Green Stripe
GREEN SASH + 2 Green Stripes
GREEN SASH + 3 Green Stripes

Disciple Level
Master Level

BLACK SASH
BLACK SASH + 1 Green Sash
BLACK SASH + 2 Green Stripes
BLACK SASH + 3 Green Stripes
BLACK SASH + 4 Green Stripes
BLACK SASH + 5 Green Stripes
BLACK SASH + 6 Green Stripes
BLACK SASH + 7 Green Stripes

Patriarch Level
Shaolin Kung Fu is a 'Way of Life.'
Complete the WHITE SASH belt rank level of Shaolin Chi Mantis.
Then, write us a review.
" Wow.  This first belt rank level was more difficult than my Tae Kwon Do black belt! "
after graduating WHITE SASH
" There is more bookwork in Shaolin Chi Mantis than any other martial art school I know of.  It's really tedious… but always beneficial or enlightening."
after graduating WHITE SASH
" I'm about to graduate the beginner level of Shaolin Chi Mantis Traditional Buddhist Kung Fu.  This has been more work than all ten years of my previous martial arts training.  This past two years has been the most intense and rewarding experience of my life.  Now I know what a hero is."
after graduating WHITE SASH + 3 Green Stripes
Everyone should take the first semester of Shaolin Chi Mantis.
This one semester will improve the rest of your life -- even if you quit.
See how far you can go.
Finishing the 4-semester SCM BEGINNER PROGRAM = Black Belt.